06.12.2009
We are very happy to announce we hope to get another litter in end of January 2010, coming from the same cross of pedigrees like last litter `D`, and with similar genes combination.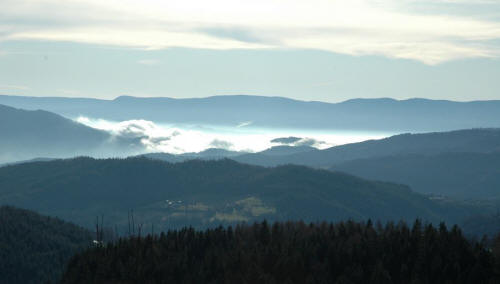 Trip time
Id like to show puppies from last `D` litter in age of 4,5 month , I'm proud of them specially because of latest very promising Hip X rays - /Contessa&Apollo/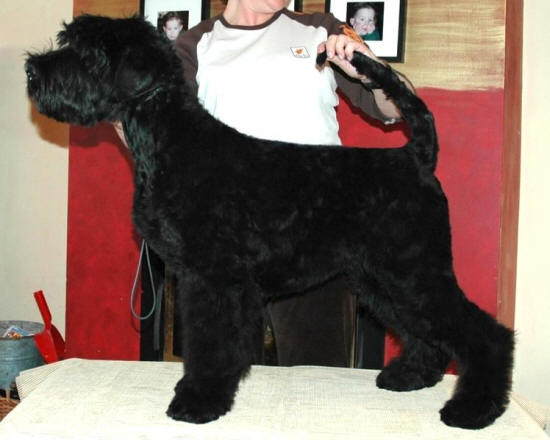 Double Trouble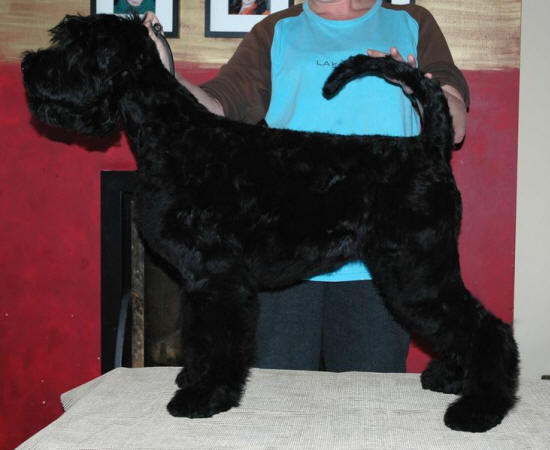 Argus Electra DE LA BUGATTI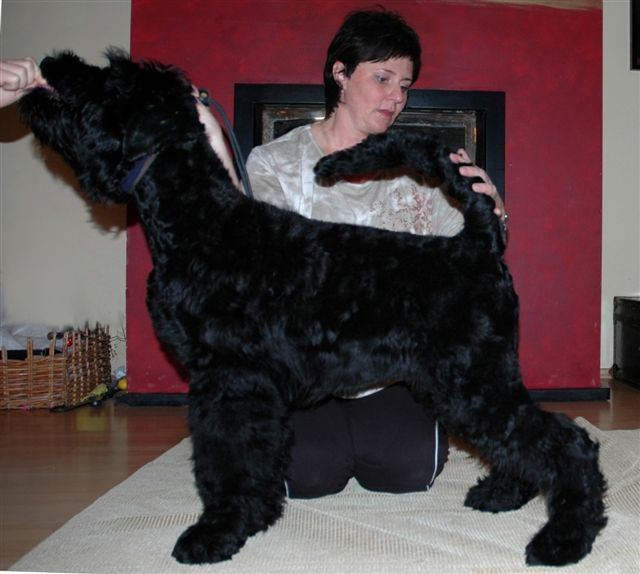 Argus Electra DAVIDOFF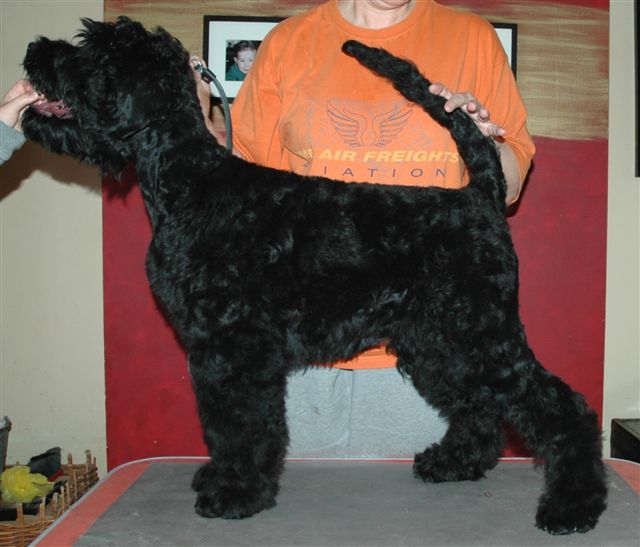 Argus Electra DINASTIA
Argus Electra DIUNA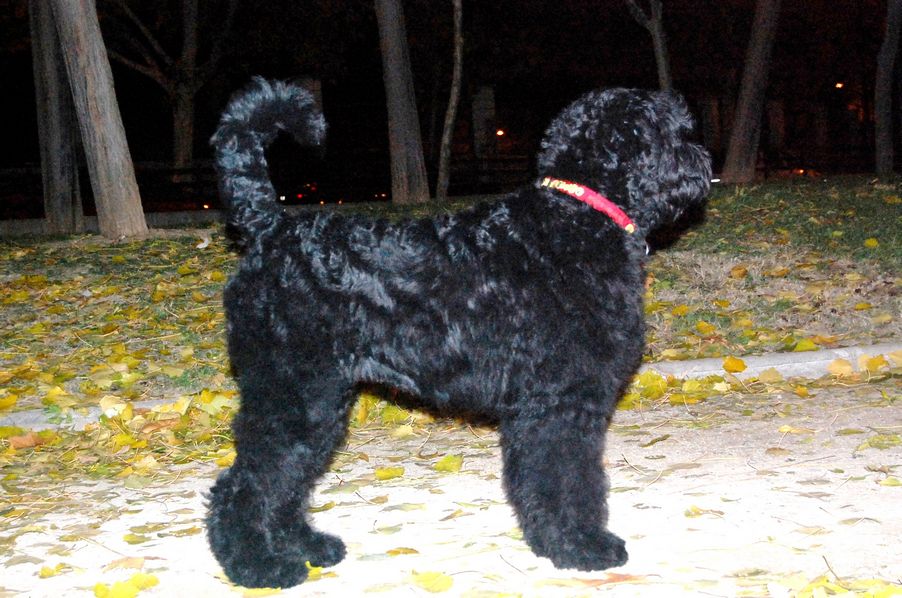 Argus Electra DISSEL
---
15.11.2009
Friedrichshafen judge Mr Muriel Frölich France /D/
On this dog show Annina showed Argus Electra BOYAR, Boyar woon in Champion class 1 ex, CAC and res.CACIB
Annina congratulation !!!
---
14.11.2009
Arguses 4 months old :)
Argus Electra De La BUGATTI
Argus Electra Dissel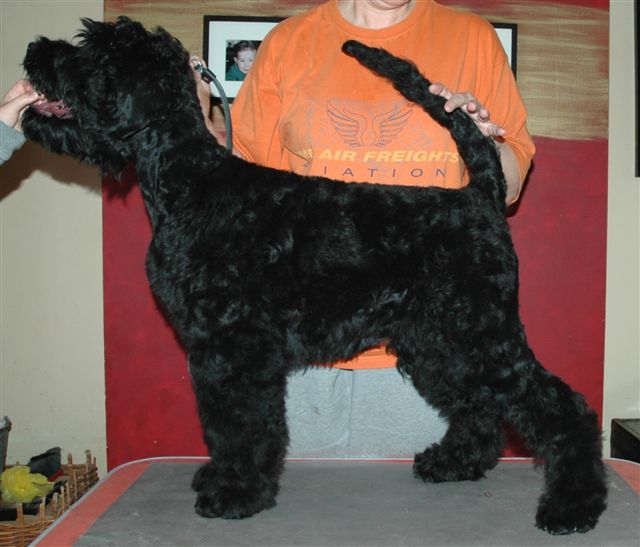 Argus Electra Dynastia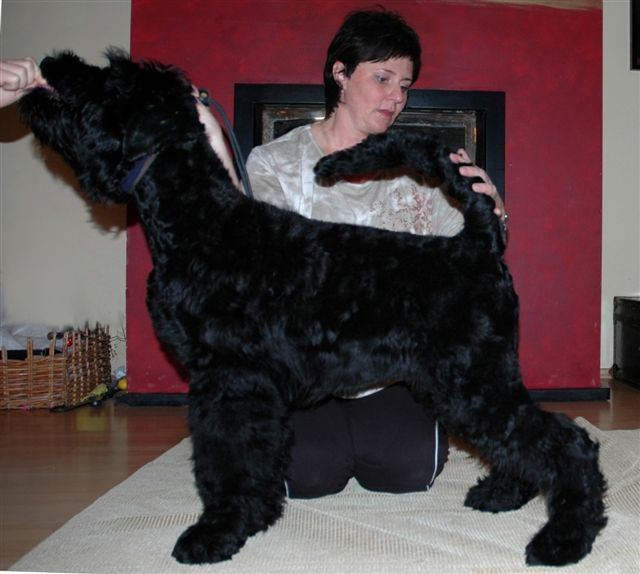 Argus Electra DAVIDOFF
Argus Electra Diuna
---
09.11.2009
08.11. International Dog Show Poznań judge A.Zhuk (BY)
We showed almost "full set" of our Argus Electra Team, we got 2 x CAC, 1 x res.CACIB and 2 excellent in open class.
ANTARES s Almasnogo Ostrova got her first CAC on International Dog Show, Sabine my congratulations - showing Antares is like going with small sweet devil on the leash - full of temper girl is difficult to control :-)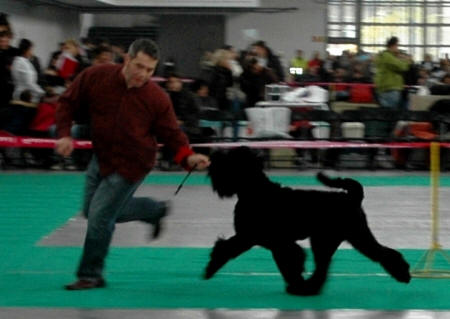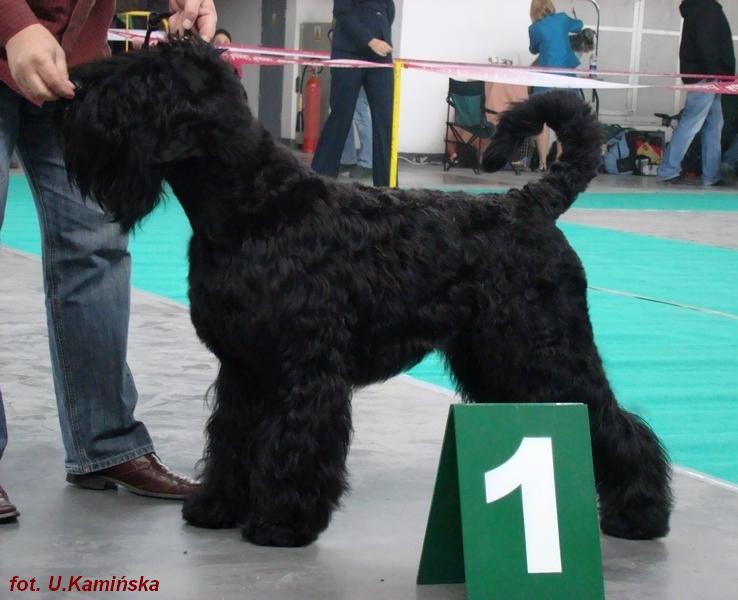 Argus Electra CHORNAYA UZI in open class 2 excellent.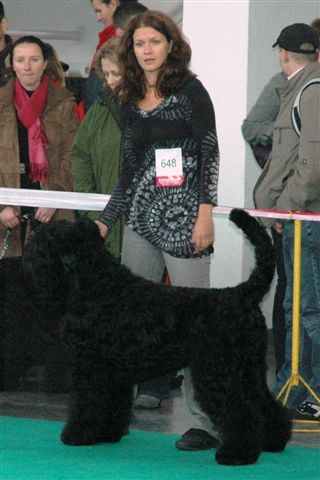 Argus Electra CONTESSA was shown in Champion Class, she got CAC and res.CACIB. It's already 21 CAC, which she got in her showing carrier.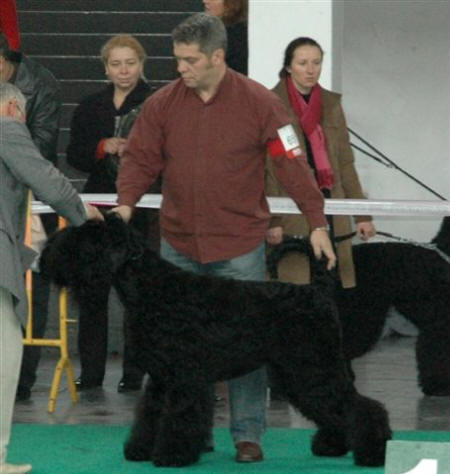 In the end we took nice shoot of our family members, Ada thank You for such a nice company, I hope we will meet again soon on another exhibition.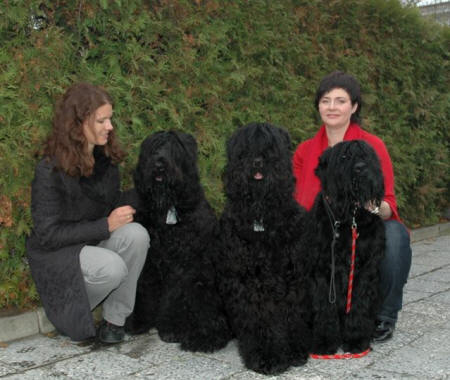 Argus Team
---
28.10.2009
I've just got nice photo of Vańka Argus Electra DOUBLE TROUBLE with his owner Agnes - nice, sweet, heavy boy
Double Trouble
---
25.10.2009
National Dog Show of Terriers in Racibórz judge V.M. Soleckyj-Szpunar

Argus Electra CONTESSA got 1 excellent and CAC in Champion Class,
ANTARES s Almaznogo Ostrova 2 excellent in intermediate class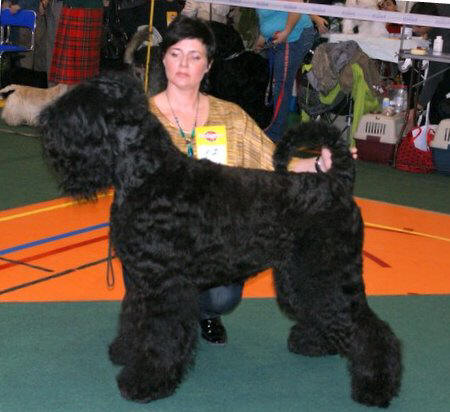 Argus Electra Contessa
---
20.10.2009
18.10.2009 - National Exhibition in Szentendre Hungary - judge Dr Kertesi Karoly /H/:

Szentendre is a lucky city for us. Two years ago Basma (mother of Contessa) used to win there, at that time even Contessa got her first point as a winner in puppy class. So this year a history likes to repeat...
Argus Electra CONTESSA 3 months after giving a birth of puppies was again on ring with excellent results as CAC and BOB between 9 Black Russian Terriers. She is already second dogs with title of Hungarian Champion in our kennel. I hope she is not the last one.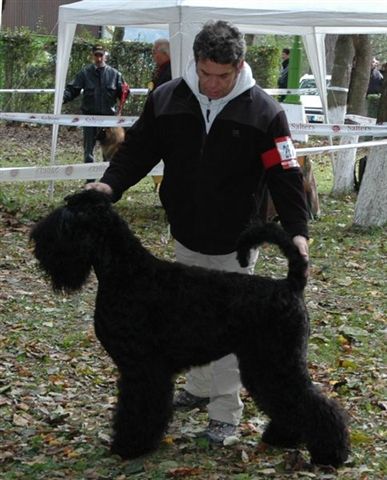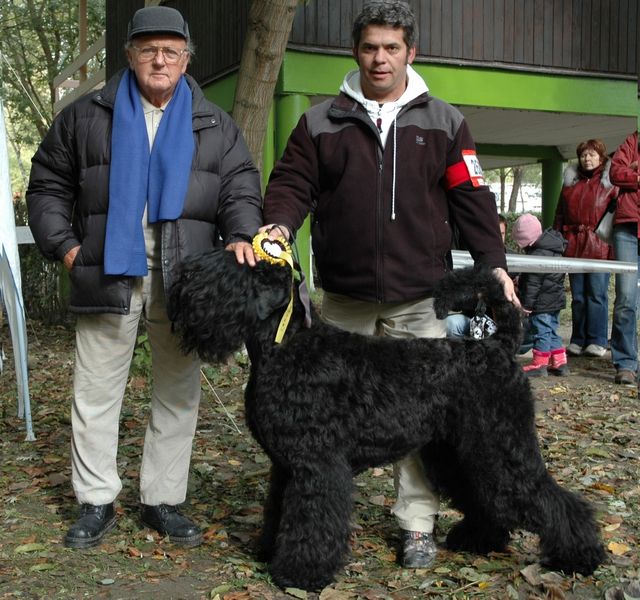 ... and last picture De La Bugatti :)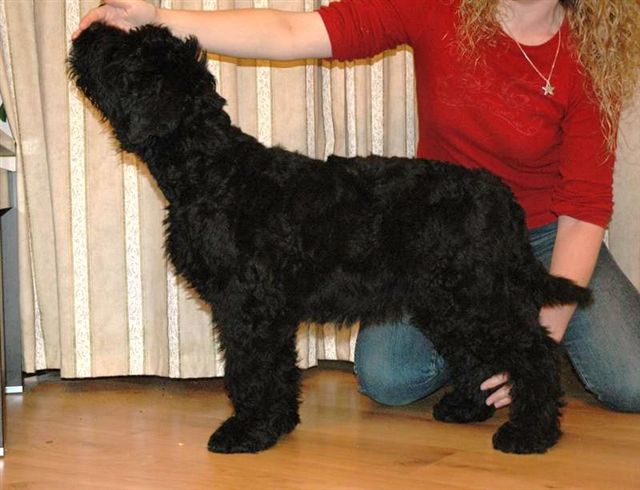 ---
18.10.2009
CACIB Bundessieger , Frau Freerksen /D/

Argus Electra BOYAR shown by Annina in Champion Class wonn V1, VDH CAC, Res. CACIB
Annina congratulation, now with pleasure I can show Boyars photo , Annina, Bastian thank You :)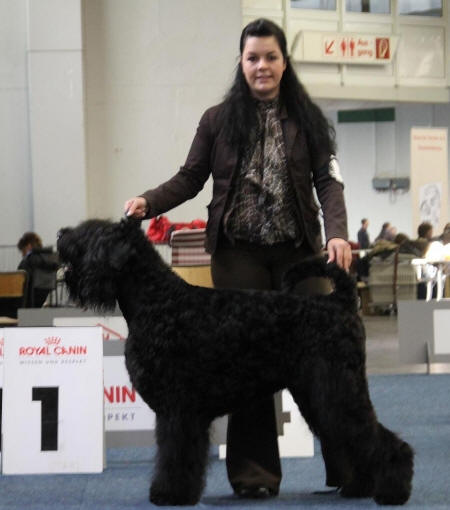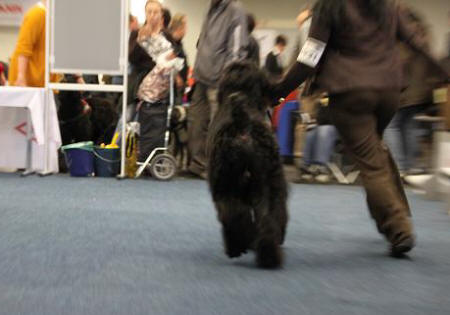 ---
01.10.2009
If somebody asked me about living BRT with children, its could looking like this :)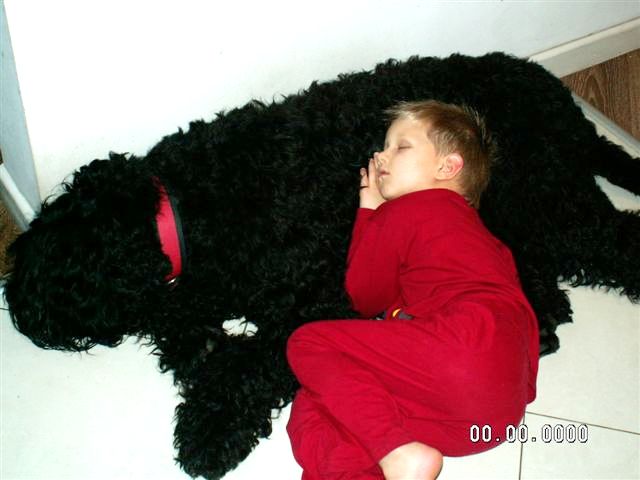 Uzi and her best friend Kuba :)
Tooday I`v got from Pilar /Spain/ new photo of Teddy Bear DISSEL :), he is so sweet like always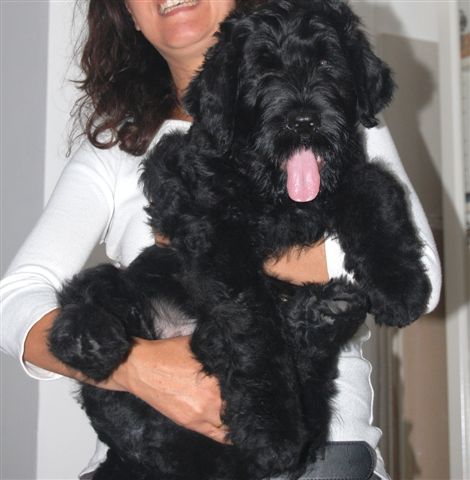 ---
27.09.2009
Cacib Wrocław judge Mr. Marek Lewandowski /PL/

Argus Electra CONSTANTIN got in open class CWC 1 exellent between 8 males in competition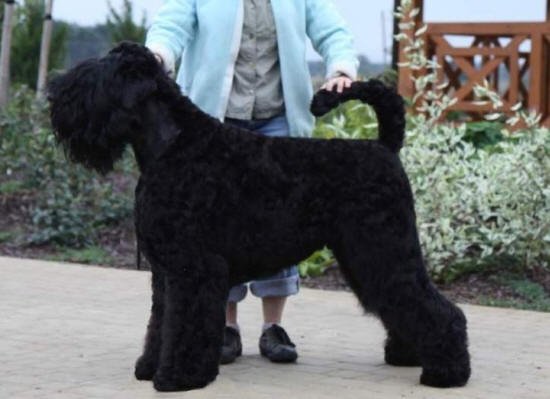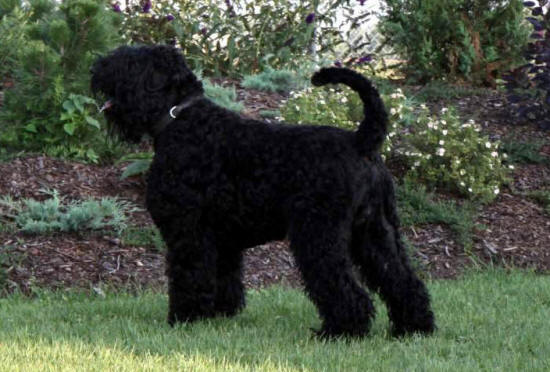 our girls Argus Electra CHORNAYA UZI IIIex/V in open , and ANTARES s Almaznogo Ostrowa III ex/IV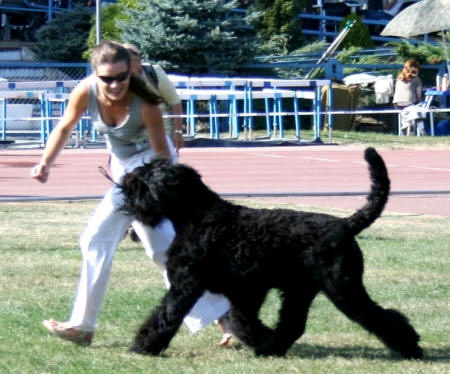 Argus Electra CHORNAYA UZI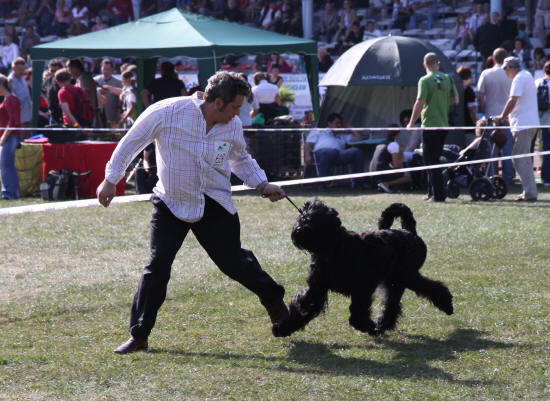 ANTARES s Almaznogo Ostrowa
---
18.09.2009
After so short time all my puppies got a new great families. It was very wonderfull time for me, but the time passess so quick ... too quick.
For next litter I have a plans on winter 2009 or spring 2010. All interested in puppy from my kennel welcome then.
20.09.2009 - At last weekend Apollo of Berryland with beautifull style comlite all titll to Inter Champion and Croatian Champion - Gerli conratulation :)
Double Trouble in new house
Double Trouble vel. Vanja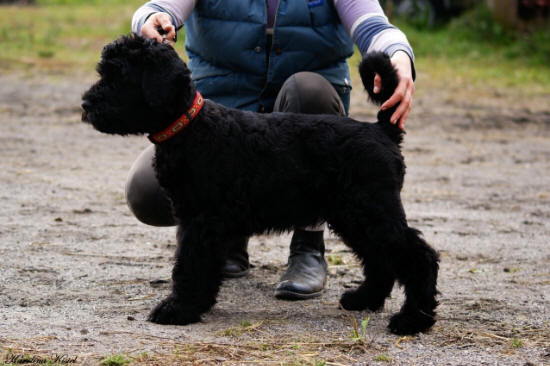 Double Trouble vel. Vanja
Bugatti in new house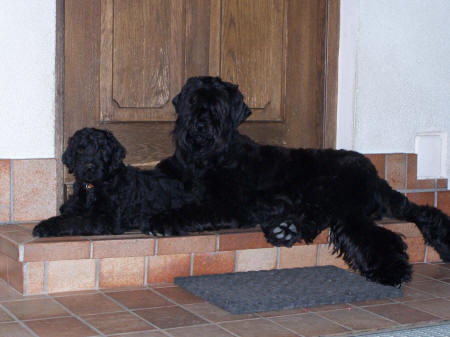 Argus Electra Dream of Berryland vel Electra in new house
---
09.09.2009
Time's up , `D` Argus litter slowly is coming to new families.

Last puppies also find new homes - DISSEL went to SPAIN , Argus Electra DREAM of BERRYLAND will be in loved and `spoiled` by Gerli from BERRYLAND kennel .

For this moment I can offer last bitch of Argus litter , - very promising for show, with fantastic temper, very nice angulations, also with impressing movement. I hope for show future of this girl.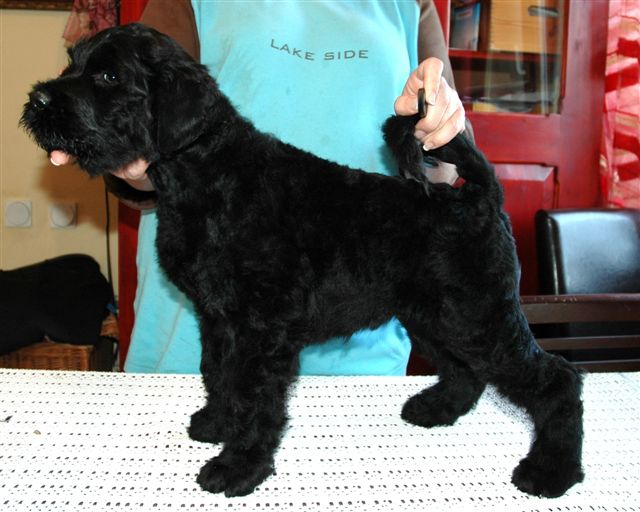 ---
01.09.2009
We are looking new owners for 2 pupps, bought are very persective for show
Argus Electra DE LA BUGATTI: very temper lady , with perfect expresion of BRT type
and the strong man Argus Electra DISSEL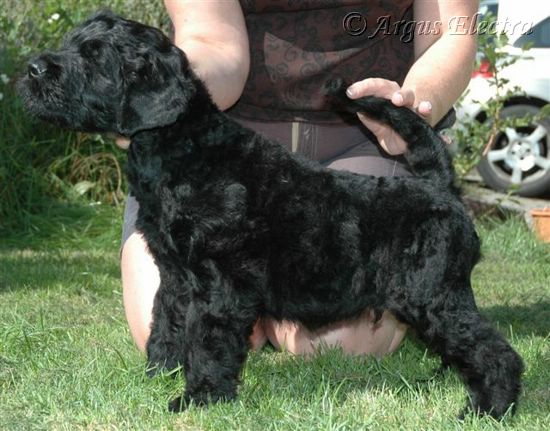 more photo of samll Arguses You find in puppes galerys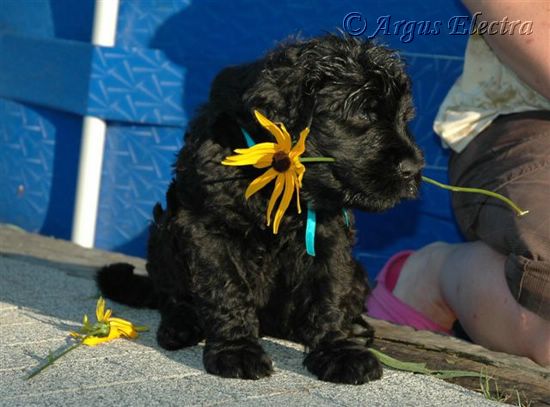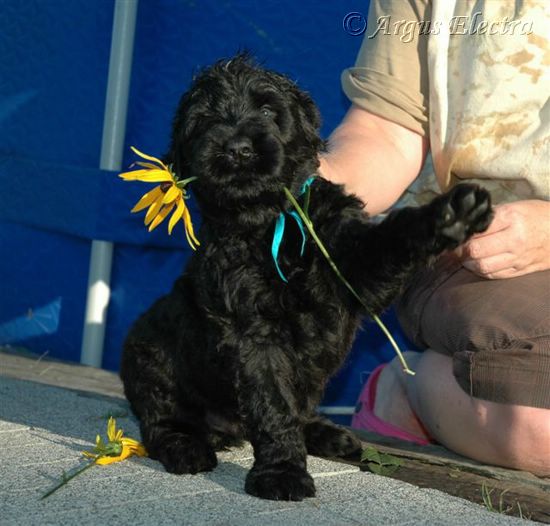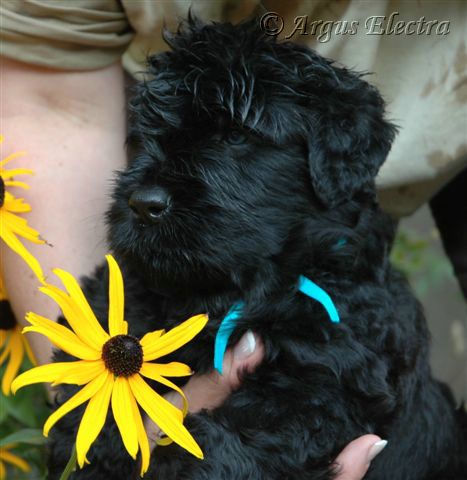 Argus Electra Double Trouble
---
16.08.2009
National Dog Show Nowy Targ judge J. Mrugasiewicz /PL/
ANTARES s Almaznogo Ostrowa, first time in 15 month age, shown in intermediate class wonn her first CWC tittl.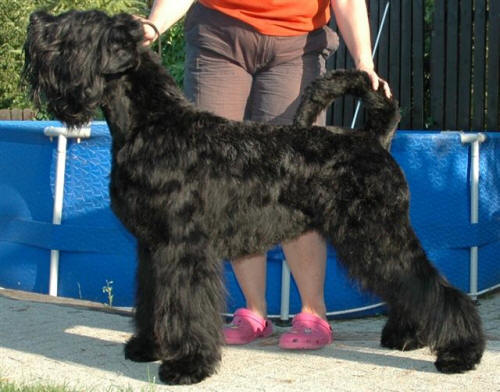 the day before :)
Id like to presentes new photo of our small Arguses team - portrait & show position , moore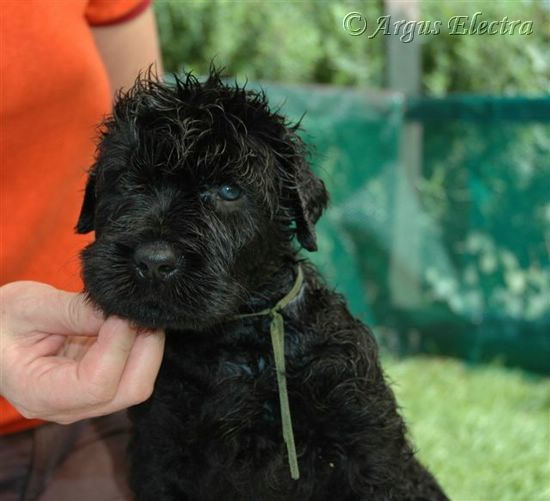 ---
02.08.2009
National Show Chojnice jugde mrs. Jadwiga Niciewicz
Argus Electra CONSTANTIN shown in open class with succes , 1 ex CAC, with this titll, COSTA became a Champion of Poland.


Its time to show new Argus Electra team, kids are 19 days old , all has open eyes, and most of them are discower new world.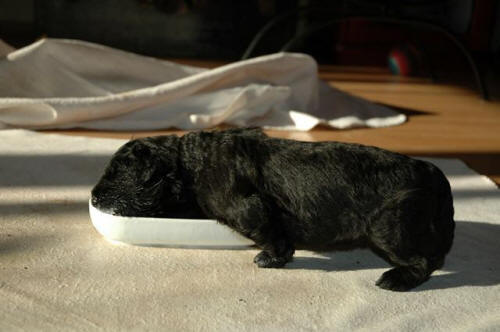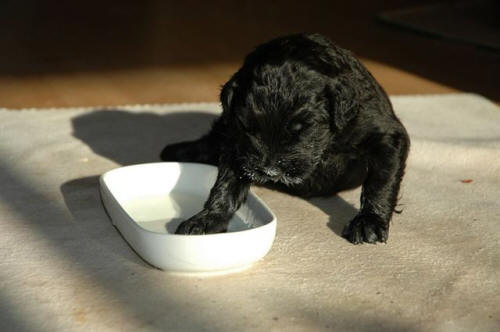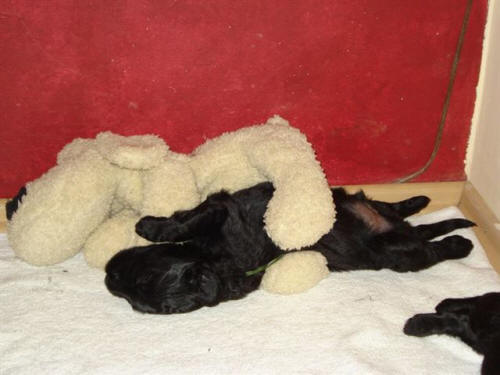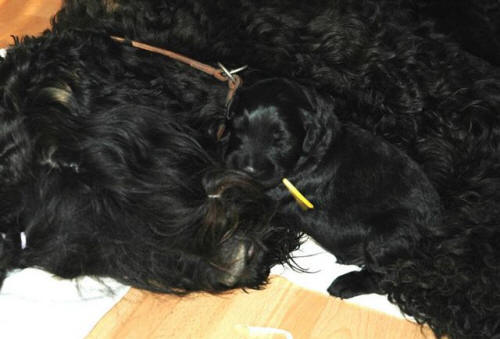 The best way is with the mother
Some photos of boys from litter "C", which I get from owners.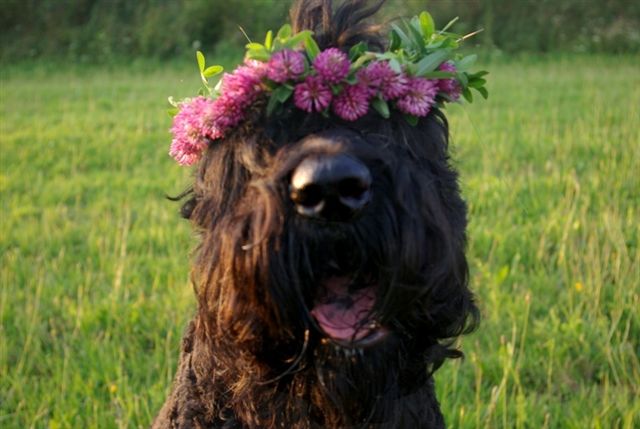 Corus - with flowers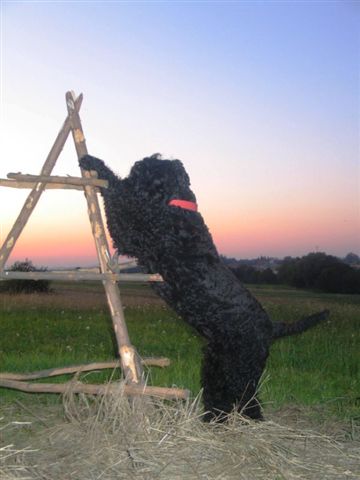 Colin - viewpoint
---
22.07.2009
On July 15 , there were born 11 pups- 6 sweet girls and 5 strong men ;) .
Mummy and pups are fine

Moore info in link `puppies`
---
27.06.2009
Cacib Kraków
judge P. Anatolij Zhuk (BY)
It was lucky weekend for our kennel, Argus Electra CHIORNAYA UZI in open class got CAC, next in competition for BOS, she recived her first Cacib, and comparing with beautifull male Dargas Drugelis she got BEST of BREED . With this CAC Uzi complite title CHAMPION of POLAND.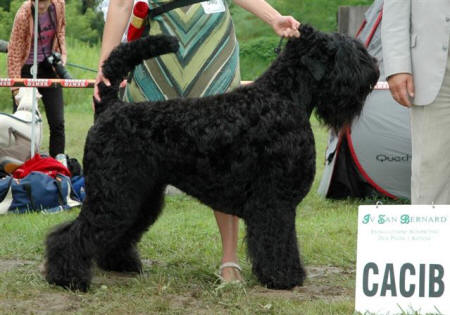 Chiornaya Uzi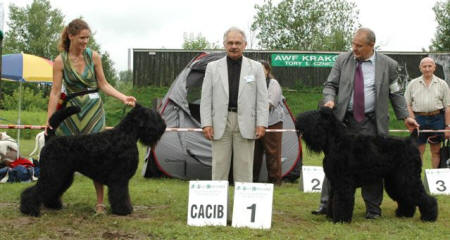 Chiornaya Uzi & Dargas Drugelis
---